Next Up...
Harvest Thanksgiving
Sun, 23 Sep, 2018, 11am @ Hethel Church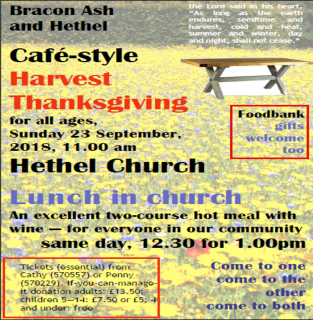 Harvest Thanksgiving for all ages
Sunday 23 September, 2018, 11.00 am at Hethel Church
followed by...
Lunch in church:
An excellent two-course hot meal with wine — for everyone in our community same day, 12.30 for 1.00pm
Come to one, come to the other, come to both.
Tickets for lunch (essential) from:
Cathy (570557) or Penny (570229).
If-you-can-manage it, donations: adults: £13.50; children 5—14: £7.50 or £5; 4 and under: free
Contact Cathy for more details -

4 days to go