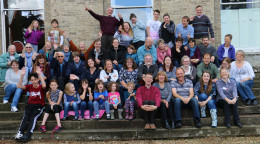 We are a group of Christian believers, who strive to serve our communities well and to offer a variety of worship to suit all tastes.

"Let us not give up meeting together... but let us encourage one another - and all the more as you see the Day approaching." - Hebrews 10:25
The joy that keeps our hearts bouyant whatever our circumstances. The love that helps us bear with one another's foibles and is quick to forgive. The community of support and encouragement and real connection. The unity of Spirit and purpose that arises from a shared experience of God's love, protection and truth. And the glimpses of glory as the power of our supreme King breaks through into people's lives to bring revelation, boldness, healing, the occasional miracle and the power to persevere and make sacrifices when life is challenging.
This is the picture that Jesus paints of the church in His great prayer in John 17. Joy. Love. Unity. Protection. Truth. Glory. These are Jesus' words. His expectation. His heart for His church. Great words - grand themes - and we just love living in this.
As a group of churches, we hope you will find that:
Jesus Christ is at the centre.
The Bible is our guide.
People matter.