Next Up...
241 Musical Comedy Gig
Sat, 1 Apr, 2017, 4:30pm @ Flordon Parish Church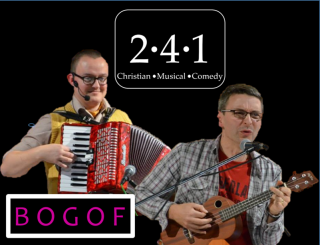 Come and join 241 for part of their "BOGOF" Tour, where you'll be treated to a fun filled performance (75mins) of musical comedy which will have you laughing your socks off! Featuring our very own curate, the Rev'd Andrew North, you can be sure you'll have a right old giggle as he and his better musical half, Alan Kirkland entertain you with their unique take on life! If you like Flanders & Swann, Victoria Wood, Tim Minchin or Stilgoe and Skellern, we think you'll love 241!
241 are a Christian Musical Comedy Duo who like to see the lighter side of Church and beyond! Their blend of original songs, reworked hymn tunes, alongside a couple of classic songs make for an act which will have you chuckling all the way home!
Tickets: £5.50 (including refreshments) available online (with no booking fee) here: https://www.ticketsource.co.uk/mulbarton-church or call Janet Negal: 01508 471070
Contact Janet for more details - 01508 471070

2 days to go