A beautiful space to hire, overlooking Mulbarton Common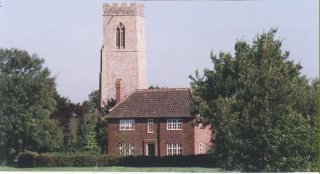 Harvest House
Available for hire!
*************COVID UPDATE**************
CURRENTLY UNAVAILABLE FOR HIRE!  Due to coronavirus-related restrictions, bookings at Harvest House have been cancelled and we are not able to guarantee any future bookings.  Enquiries are still welcome.  Some bookings in the future are being pencilled in, but nothing can be guaranteed at this stage.  We continue to follow the latest government and church guidelines.
********************************************
Harvest House is situated opposite the common, near to Mulbarton Church and is mainly used for church meetings and social gatherings, children's and youth work, as well as refreshments after services.
The house is also available for hire, being ideal for small gatherings such as hosting church away days, social and committee meetings, children's parties, craft groups, and fundraising events.
Harvest House refurbishments were completed in 2016, with a new roof, insulation, central heating, flooring and redecorated throughout.  You would be most welcome to come and view in advance of hire to check out the facilities!
Charges are only £5.50 per hour (minimum hire 2 hours; add 50p per hour for heating in cooler months).  A deposit of £25 is required to secure the booking (refundable after post-booking inspection).  Hire includes:
Fully fitted kitchen with water heater, 'range' cooker, larder fridge, microwave, crockery, cutlery and cooking utensils.
Light and airy south facing lounge (9.1 x 3.3m) which has direct access to an enclosed garden where a climbing frame is available for use. Tables and chairs available.
Downstairs cloakroom with disabled facilities and baby changing unit.
Private car park with space for several cars.
For an extra 50p/hour per room upstairs, hire may include upstairs room, where appropriate:
Prayer room for quiet prayer and contemplation (3.5m x 3m)
Room with lounge seating (3.4m x 3.9m) for a small group
For full details please contact Caroline Dunlop, booking secretary, by email: caroline@mulbchurch.org.uk  or phone 01508 571167 (option 3), Monday - Thursday 10am - 1pm