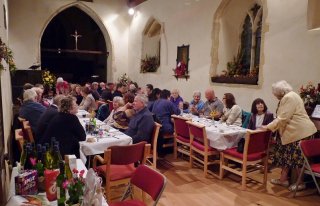 A Friendly and Welcoming Fellowship in the Heart of the Community
We have a small, rather "senior", regular congregation, but we are young at heart and make all visitors feel welcome. Those who come to our church usually comment on the warm and friendly atmosphere. In 2013 the nave was adapted for use as a Community Centre. The pews were removed and toilet and kitchen facilities were added. We have three services each month:
On the first Sunday we have a shared breakfast at 9:30am, with a simple short actof worship at 10am, which is lots of fun, and suitable for all ages.  Puppets, games and modern songs accompany a meaningful short reflection, and opportunity to respond to a Bible passage or a life issue.
There is no service on the second Sunday - but we encourage people to go to Hethel for an 8:30 communion service or to Mulbarton for a 10am Morning Worship service.
On the third Sunday, we have Evensong, a traditional service using the Book of Common Prayer. This takes place at 6:30pm from April to October and at 3:30pm from November to March.
On the fourth Sunday in the month we have Holy Communion, using the Book of Common Prayer. This is at 8:30am.
We are especially pleased to see the fabulous building being used for so many innovative community activities, and are very pleased to be able to serve Flordon village by offering such a well-equipped and attractive facility, including plenteous parking, toilet, kitchen serving area and disabled access.