40k 4 Lent - Try covering 1km per day through the season, with Bible verses and prayers to sustain you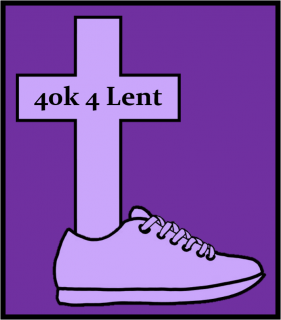 Often in the season of Lent we are encouraged to give something up, but this year we are encouraging you to get active! We'd like you to join us this Lent as we seek to run, walk or jog 1km on each of the 40 days of Lent (from Ash Wednesday on 06 Mar to Holy Saturday on 20 April). You may be pleased to hear that Sundays are a day of rest!
To encourage you on your way, we'll provide a short journeying themed Bible reading for each of the 40 days (no more than 4 verses!), along with a prayer for each day of the week. You don't need to be a Christian to take part, 40k 4 Lent is open to anyone who wants to participate and the resources we provide are there to encourage you on your journey.
It doesn't matter if you do more than 1km, but try to do something every day rather than doing 6km in one journey. You could complete your 1km whilst on the school run or walking the dog. You can complete it alone, with a friend or in a group, it is entirely up to you
We'd love to hear how you are getting on, so why not post an update on Facebook, Strava or other forms of social media, using #40k4lent
During the final week of Lent, known as Holy Week (Mon 15 – Fri 19 Apr), our Curate, The Revd Andrew North will be running a loop between each of our 4 churches carrying a large cross; pausing briefly at each church to pray. More information on this will follow in due course.
Whichever way you chose to complete the 40k 4 Lent, we pray that your journey will be both physically and spiritually rewarding.