Rumours of Angels? Angel Stone Painting
Sun, 22 Oct, 2017, 4pm @ Hethel Church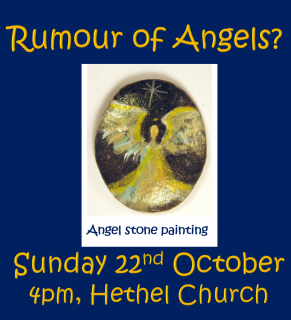 5 hours to go
Come and join in with our 4th Sunday @ 4 Angel stone painting! 
This is the time of the year when the Angel world is particularly active.  We need to help the heavenly host get ready for God's Big Day.
Come ahd help create enough Angel stones in preparation.
A great opportunity for adults and children to have fun together.  Suitable for all ages.
We will meet in Hethel church with stones and drawing pens ready.  There will be some stories about God's Angels and some picture ideas for angel designs.  Bring your own ideas too!
Look forward to seeing you there!
More information about plans for God's Big Day and how you can be part of it, coming in about a month's time. 
Watch this space!
For further information, please contact Cathy Nicholls 01508 570557
Hethel Church is situated in Church Lane, Hethel NR14 8HE
Contact Cathy for more details -