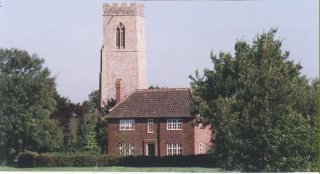 Recently renovated and well equipped - beautiful space to hire, overlooking Mulbarton Common
POSSIBLE USES:
Harvest House has many possible uses. The house can be hired as a complete facility or rooms can be hired individually. (In the event of more than one booking in the house, the ground floor hirer would have use of the front garden and first option on the kitchen.)
It has been used for church prayer meetings, Counselling sessions, Alpha weekends, Tearcraft Sales, training days, Bible Study, Music and Drama group rehearsals, Sunday School away days, Fellowship group activities, Bring and Share meals, a country day out for city churches - and is the main locations for Mulbarton Church's children's and young people's groups on Sunday mornings.


GROUND FLOOR:
A large meeting room (9.1m x 3.3m) with direct access to the front garden.
Kitchen with "range" cooker, fridge-freezer, microwave, water heater, crockery and cutlery.
A cloakroom-WC with disabled facilities.
FIRST FLOOR:
"Common View" (3.4m x 3.9m).
"Barn View" (3.5m x 3.8m). This hold the storage of toys and materials for babies and toddlers, so is best suited as a cr?che.
A "Prayer Room" (3.5m x 3.0m). This is set out a comfortable place to pray, with many helpful items and pictures to help.
A cloakroom-WC with shower.
There is also a small church office which is not for hire.
OUTSIDE:
A private, gravelled car park, holding around 15 cars. (Further parking is available at the church and near-by village hall.)
The front garden is an enclosed, child-friendly area, with direct access into the main meeting room.
The back garden is a large, open grassed area, spreading out to both sides. There is also a small climbing-frame with a slide.
There is also a "Party Tent" (5m v 3m) that may be available. This can be placed anywhere in the garden, but is often sited against the doorway into the main room to give an extra "outdoor room".

There are various items of equipment that can be moved around as required:
Chairs - both "indoor" and outdoor "picnic" varieties.
Tables - mainly melanine, folding-leg varieties.
Catering facilities - mugs, plates, cutlery, pans, dishes, etc.
Children's and baby's toys.
Some outdoor games - footballs, badminton, hoola-hoops, etc.
Televisions are located in most rooms (but no TV licence!), with video recorders or DVD players.
COST OF HIRE:
Hire cost is from £5.50 - full details or rents can be found by contacting the booking secretary, Caroline Dunlop on 01508 579111, Mon-Thu 10am-1pm, or by email on caroline@mulbchurch.org.uk
Minimum hire 2 hours.
Deposit required of £25, repayable after post-booking inspection.