Hethel Churchyard Mow and Drag Off
6 days to go
Sun, 26 Sep, 2021, 2pm - 5pm @ Hethel Church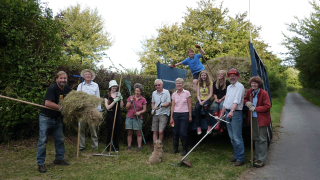 The annual churchyard mow and drag-off starts soon.
It is an annual tea-and-cake-fuelled ritual that has enabled the wildflower churchyard to flourish over the past thirty years
Sundays 12, 19 and 26 September this year from about 2pm, finishing around 5pm, with refreshments served around 3:30pm.
Wymondham Nature Group lead us and provide a lot of person-power but it's important that we who benefit do our bit as well so if you can spare an afternoon, do please come. Rakes and pitchforks provided, just bring yourself, a sense of humour and a bit of energy – it doesn't have to be much.
Back to top of page
Contact Peter for more details - 01508 570557