Thy Kingdom Come
2 days ago
Sat, 23 May, 2020, 9:15am - Sun, 31 May, 10pm @ Online & At Home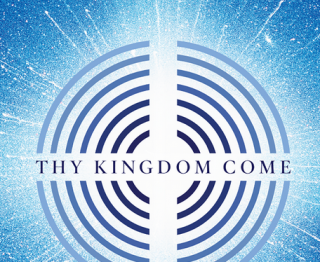 A global wave of prayer from Ascension Day to Pentecost
For 11 days, Christians from all denominations around the world commit to spending special time in prayer for the people they know as well as the whole world as we shine a light on the darkness of this world.  This finishes on the Day of Pentecost  - the great celebration of the coming of the promised Holy Spirit.  This has been happening for a few years now but this year is a bit different – for obvious reasons!  To celebrate Christians joining in prayer this year we are combining forces, and encouraging everyone to join in with opportunities locally, in the deanery (collection of local churches, from Hingham to Cringleford) as well as the wider diocese, and national and global church.
Find out more on the dedicated website: https://www.thykingdomcome.global
We are invited to pray with Christians worldwide for God's Spirit to empower OURSELVES to be witnesses for Jesus Christ and for OTHER PEOPLE to come to know Jesus. Each day there is a theme – pray about that theme for YOURSELF and for OTHERS (maybe 5 – friends, family, neighbours) that they may be drawn closer to Jesus. Readings are added to help you think about each theme.

Ascension Day – BELONGING   (Ephesians 1 verses 3 to 8)
Friday 22nd – GRACE  (Ephesians 2 verses 8 to 10)
Saturday 23rd – COURAGE  (Joshua 1 verses 7 to 9)
Sunday 24th – WISDOM  (Proverbs 2 verses 1 to 6)
Monday 25th – JOY  (Psalm 98)
Tuesday 26th – COMPASSION  (Luke 15 verses 11 to 24)
Wed 27th - FORGIVENESS  (Matthew 18 verses 21 to 35)
Thur 28th – HEALING  (Revelation 21 verses 3 & 4  and chapter 22 verses 1 to 5)
Fri 29th – HOPE  (Titus 3 verses 3 to 8 & Romans 15 v. 13)
Saturday 30th - PEACE  (Philippians 4 verses 6 & 7)
Pentecost Sunday – LOVE (John 13 verses 34 & 35; also 1st letter of John 4 verses 8 to 11 & 1 Corinthians 13)
So, what's actually happening?!?
Online Daily Prayer
Over the Deanery and Diocese we can offer the following to connect with:
Mulbarton Church
You can join in with Morning Prayer 9:15am-9:45am Monday to Thursday. Bring a coffee. Opportunity to connect, discuss a Bible passage and say some prayers, for half an hour each day of the week. Zoom Meeting ID: 878 150 264
Hethersett Church
Most Weekdays at 1030 a Short act of Morning Prayer can be found at: https://www.facebook.com/hethersettchurch
Hingham and High Oak
Midday Prayer at 12 noon each day can be found on https://www.facebook.com/High-Oak-Hingham-429396720821739
Diocesan Compline
Join Bishop Graham, assisted by others, at 9pm every night of this period for Compline. 
Compline will be held every evening starting on Thursday 21 May (Ascension Day) until (and including) Saturday 30 May.
Zoom meeting link: https://zoom.us/j/95501245043?pwd=eHpDOGpiTmY4TmRYME1Tb21pM0VWQT09
Meeting ID: 955 0124 5043
Password: 955067
Liturgy can be found here: https://www.dioceseofnorwich.org/app/uploads/2020/05/Compline-The-Kingdom-Come-2020.pdf
Humbleyard Deanery Day of Prayer:
As a deanery we are asking people to sign up to slots to pray.  We are concentrating this on the 12 hours between 9am and 9pm on the day before Pentecost, Sat 30 May, as we aim to wait with the disciples.  You can pray however you would like to – that might be doing a prayer walk around your area, opening up the Pentecost Story and asking God to work like that once more, sitting in silence, colouring, drawing, listening to music…however you pray – pray. 
To encourage us all, Graham in Cringleford has kindly put up a sign up sheet to try to make sure we can cover all 12 hours – more than one person can sign up for each slot!  The link is: https://www.24-7prayer.com/signup/7da813
We are then inviting people to join in with the Diocesan Compline at 9pm (see above) whenever their slot was or even if they didn't have a slot!
Prayer and Reflection Resources

Susanna Gunner, the Diocese Director for Prayer and Spirituality is producing daily reflections for this period to guide us through and encourage us to pray.  These can be found here:
https://www.dioceseofnorwich.org/resource/ascension-to-pentecost-reflections
Cringleford Church plan to post some short interactive prayers suitable for all ages on https://www.facebook.com/STPsCringleford - these will be put up at various times during the week.
There is also a very good app which not only includes a daily Podcast by former Bishop of Durham Tom Wright but also a Family Podcast to help all the family pray.  Search for 'Thy Kingdom Come' on your devices App Store.  It also has daily prayers on it.
Something for the Younger Ones (Or young at heart!)

Finally there is an interactive map and VR game for mobile devices available!  This is really fun (especially enjoyable is the sheep game) but also great at helping to get people thinking about prayer.  You need to print the map off from https://www.thykingdomcome.global/resources/digital-family-prayer-adventure-map (where there is also instructions!) and download the app by searching 'TKC MAP AR' in your app store.
Back to top of page
Contact Adrian for more details - 01508 571167