Flordon Film Night: Red Joan
2 days to go
Wed, 16 Oct, 2019, 7pm @ Flordon Church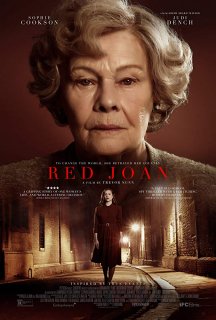 This month we are showing...
RED JOAN (2018) Drama 12A 101 minutes
Directed by Trevor Nunn. With Judi Dench, Sophie Cookson
Joan Stanley is a widow living out a quiet retirement in the suburbs when, shockingly, the British Secret Service places her under arrest. The charge: providing classified scientific information - including details on the building of the atomic bomb - to the Soviet government for decades. As the interrogation gets underway, Joan relives the dramatic events that shaped her life and her beliefs.
Tickets are now on sale, Just £5. Book now and pay on the door
Membership subscriptions are due…still only £5 per person per year
New members are always welcome. Please come along, enjoy a glass of wine and meet your fellow film buffs!.
Call or email David now to book your tickets.
Back to top of page
Contact David for more details - 01508 470118