241 POSTPONED until 24 March
Posted: Fri, 2 Mar, 2018 (5 months ago) - by Andrew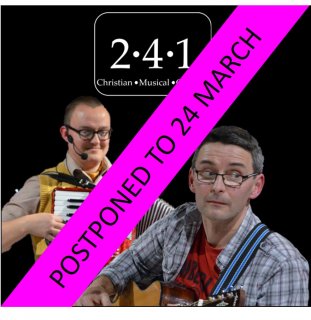 Due to the weather conditions we have taken the difficult decision to postpone both of tomorrow's 241 performances at Mulbarton Church until Sat 24 March. If you have booked online you will be fully refunded via the ticketsource website. If you have booked via the church office, please contact Caroline at the Mulbarton Church office during office hours to be fully refunded.
We apologise for any inconvenience caused, but we're sure you undertstand that safety has to be our number one priority.
Tickets for the rescheduled performances are available online (with no booking fee) here: https://www.ticketsource.co.uk/mulbarton-church or from Caroline: 01508 579111
241 are a Christian Musical Comedy Duo who like to see the lighter side of Church and beyond! Their blend of original songs, reworked hymn tunes, alongside a couple of classic songs make for an act which will have you chuckling all the way home!
Back to top of page