#ChristmasRocks
Posted: Tue, 19 Dec, 2017 (1 month ago) - by Andrew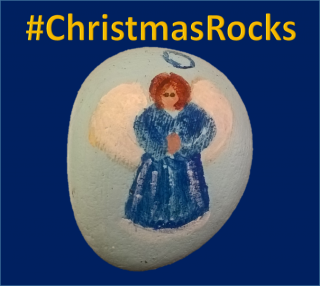 #ChristmasRocks
Can you help the Angels find their way to the nativity?
We'll be launching and praying for the #ChristmasRocks at our carol service at 4pm in Hethel Church on Sunday 10th December 
From Tuesday 12 December to Christmas Eve, there will be a heavenly host of angels around Bracon Ash and Hethel. Can you find them?
30 Angel Rocks will be placed around our two villages. When you find one, you can take it home. Take a photo as well and post it on our Facebook page www.facebook.com/Mulbartonchurch along with #ChristmasRocks. And keep hunting! You can post as many photos of Angel Rocks as you like (but please only take one per child home). If you can't findany, don't worry – make and photograph your own.Then bring an Angel Rock you have found - or made – to the #ChristmasRocks Crib Service at 4 pm on Christmas Eve at Bracon Ash Church and help "Andy the Angel" to tell the Christmas Story!
Here are some clues to help you find an angel rock:
#ChristmasRocks clues: Rocks can be found near a post, sign, object or building.
Around Bracon Ash. Have fun finding angels!
1. Number 37 will come here.
2. The slatted doors keep leaves not visitors out!
3. Mergate Farm House can be seen from this Mergate Lane sign.
4. Dr Who has a blue one whilst ours is red.
5. Climb up for a slide.
6. A 510 Yard hole.
7. Sitting here a bus might come, but cars and lorries go by all the time.
8. St Nicholas has a Car Gate and a Small Gate.
9. Lots of wheels for sale here.
10. Where a zip line starts.
11. The sign on The Common showing that it is home to these creatures.
12. Three different Bishops' hats on a big post.
13. A train that goes nowhere.
14. 6 miles to Norwich and 103 to London.
15. Sit here to view the War Memorial.

Around Hethel. Have fun finding angels!
1. Here is where we remember 588 lost lives.
2. Where Mr Crane met the Spong?
3. (Un)scramble the "porous glut" and it's near the walkers' gate.
4. How old? They say at least 700 years!
5. No yellow ribbon around this, just a chain. OK for walkers but 'No
Horses' please in Bush Close.
6. Stops a spin in the snow where roads meet.
7. Drivers: this notice marks the entrance to 389th Memorial Museum.
8. Five wooden "houses" in a row in the woods. Could one be a stable?
9. Gone a-Drift? Take the weight off your feet.
10. Run out of road? You can walk from here near The Track.
11. Set in stone, this couple look very fine.
12. Sorry, can't get any closer to this huge water container.
13. Park and walk to this Protected Wildlife Area. Need directions?
14. Where Potash Lane runs into doubt. Is it Hethel?
15. Find out what's going on at All Saints Church.
Back to top of page