Easter Values and APCM Vision
Posted: Wed, 29 Mar, 2017 (5 months ago) - by Adrian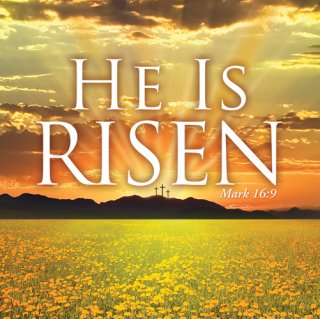 April is the month in which we have to have our annual church meetings. It is also the month In which Easter often falls - this year it's right in the middle of April. It always strikes me as something of a juxtaposition. Remembering the week leading up to Jesus' death and celebrating His resurrection is perhaps the most intensely spiritual and searching of all our festivals. The word "crucial" comes from the Latin "crux", meaning "cross", and this week of celebration is truly crucial in every sense. On the other hand, we have the intensely practical work of attending to the legal aspects of running 4 charities, and ensuring that notices, electoral rolls, and reports are all in order for the annual meetings.
So, I find myself with this balance between spiritual and practical, between meditating on the timeless meaning of Jesus conquering death, and reading up on the latest changes around charity regulations, and making sure we do what we should. In reality, both these things are important.
We have to keep circling back to the roots of what we believe and what really makes us get out of bed in the morning. How Jesus has expressed His love to us in the person of Jesus Christ and in the events of Holy Week, is nothing short of astonishing, and it does lie at the heart of all we engage in. And yet we find ourselves with our own unique context and our own specific calling to pursue.

The APCMs provide an opportunity to review how we are living out God's call upon us and to cast the vision for where God is calling us to next. The annual meetings are much more than a series of talking heads, giving dry reports out of duty to the demands of charity law. They are a time when we can gather the wider church family, celebrate what God has done in the past year and seek God together for fresh vision and direction in the year ahead.
Our foundations and our values remain constant, and the resurrection celebrations bring us back to these. But our vision shifts and turns as the Spirit blows in new directions, and our annual meetings give ear to this.

I do hope to see as many folk as possible from the church families gathering through April, to seek both a re-grounding with God and a re-envisioning from Him.
APCM Meetings
Hethel Tuesday 4 April 7.30pm in Bracon Ash Village Hall
Mulbarton Monday 10 April 7.30pm in Harvest House.
Bracon Ash Tuesday 11 April 2.00pm in Bracon Ash Church
Flordon Tuesday 18 April 7.30pm in Flordon Church
Back to top of page